Let the Grooms Begin ~ How To Pick A Suit For Different Types Of Weddings
We think it's time for Grooms to play up their ownership of the wedding experience and so we will be featuring some helpful articles and ideas for all the Grooms out there starting off with this introduction to How To Pick A Suit For Different Types Of Weddings.
Everybody knows that a wedding is a huge deal! It's one of the most important days in a person's life, so of course everything has to be absolutely perfect! This means the dress code needs to match the wedding theme and that's no exception for the gentlemen.
Although women are often more focused than the men on considering the look and style of dress for the wedding, men too should give considerable thought into what kind of suit or tux they want to wear and what style they wish to present on their big day!
You might think any old standard rental suit might cut it, but think again! You'll want to match the mood and ambiance of the day with your clothes, so if you're struggling with your suit choice, here are a few ideas that might help you out with styling for your special day:
Ballroom Evening Look
https://www.instagram.com/p/B3loNjJgWL-/
Overwhelmed by all the options that come with an evening ballroom style wedding? Don't worry! The best suit choice for such a grand affair is pinstriped! There's just something inherently elegant and sophisticated about a pinstriped suit that will match the stately aura of a ballroom wedding.
Of course, you'll need a slim tie and a fitted waistcoat to complete the look. You can go for straight slacks that complete the whole look while a small white rose boutonniere (or a small bud of the wedding flower theme) can be slipped onto the breast pocket! You'll definitely feel dressed to the nines in this particular outfit!
Destination Beach Look
https://www.instagram.com/p/B3hYPflBswu/
Beach weddings are usually – at least partially – held outdoors. They're also on the slightly casual side. So, your suit selection has got to match the whimsical mood. The color scheme should be light, bright, and able to complement the sunny/windy surroundings.
You can go for a suit in a shade of blue that will contrast the sand, but will look lighter against the indigo sea waters. A shade between Blue de France and sky blue would be absolutely perfect.  This way, you'll be able to take fantastic pictures while keeping up with the theme.
You can also compromise with the shoes and go for a sporty pair instead of formal dress shoes that'll only get dirty and slippery on the sand. Your dress shirt has to contrast the color of your jacket and pants, so you can choose accordingly once you decide on that. Usually, darker shades tend to look more beautiful than lighter ones. You can cap off the look with either a bow or a tie or nothing – whatever suits the overall mood!
Garden Tent
https://www.instagram.com/p/B3VSQpKH2EB/
Garden weddings can offer a more casual and intimate setting. The guests are usually close relatives and friends, so your suit doesn't have to be incredibly grand or too dressy. You can go for either classic black or stunning white jacket and dress pants.
Alternatively, you can go for an understated Prussian or midnight blue suit as well. All three choices are very fun and adequately formal. You can complement the look with a white shirt and tie to bring a slightly casual aura within your look. Similarly, you can get creative with the boutonniere and pin either colorful or uniquely meaningful flowers on your chest!
Tropical Style
https://www.instagram.com/p/B3k4hU5AF2J/
The suit for a tropical wedding should be a little on the casual side – or as much as a suit can be anyway. In the midst of lush greenery and wild flower décor, the suit has to stand out, so it's best that you pick a dark but fun color – navy blue feels like a good choice!
Instead of going for a typical slim-body tie, you can pick a quirky little bow-tie that matches the décor nicely. You can even play with the color of your jacket lapels – make them lighter or darker depending on the overall mood of your desired ambiance.
The dress shirt has to be white. To cap things off, you can even pin a wild flower boutonniere to go with the theme!
Going Royal
Photo by Grigore Ricky on Unsplash
The royal theme is a go-to while planning the wedding of your dreams. After all, there's just something too universally attractive about a Cinderella wedding! This kind of theme is also pretty grand, so you'll have to bring in some panache and personal flair in your suit aesthetic.
Instead of going for typical monotone suit fabrics, you can go for a classic texture. Glens plaid is a great choice – especially when you're going for an elegant grey with some flair. Chalk stripes are a subtle but impactful texture as well.
You'll, of course, have to go for a full 3-piece suit. The waistcoat can match the color of your suit, but should be in solid print for contrast. The tie can be a sensual burgundy or ruby hue that'll bring out the best in your crisp white dress shirt.
Wedding in the Woods
https://www.instagram.com/p/B3okPLeAS10/
A wedding in the woods means you're going for a full-blown theme. This one can be very hard to pick a suit for, because you have to match the gravitas of the surroundings while maintaining a contrasting look. As a compromise between the formal event and dramatic forest-style surroundings, you can pick a grey suit jacket and dress pants. The shade might vary between pewter, porpoise, and flint – something that's dark but not too dark.
You can match it with a crisp white dress shirt and an elegant pink colored tie (try to find one with a light glossy sheen). For the final look, you can pin on a gorgeous white flower boutonniere!
Vintage Wedding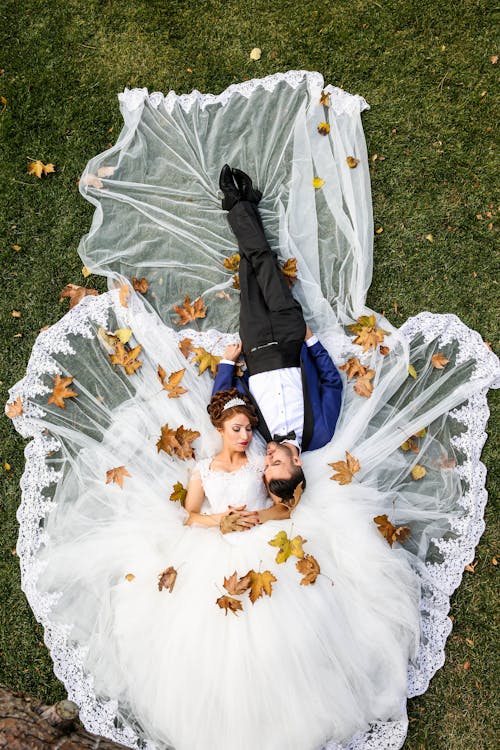 Here's the rule: if it's a vintage formal event, then the suit's got to be either tweed or a double-toned retro jacket and slacks! With tweed, the full suit will have to encompass the texture. But with the retro double-styling, you can go for a glam blue jacket with black lapels, high waist-ed black slacks, a crisp white shirt, and fun bow-tie that caps off the whole look with style!
One thing is common with any wedding or suit type you go for – it has to fit perfectly.  A groom should try and arrange for some suit alternations at a professional tailors to make sure it fits like a glove for the big day. From downsizing to shoulder narrowing, they can help you with anything!
Hopefully we have provided some fun and inspiring options to consider for your wedding! We hope you're the best dressed at the party of a lifetime!