Secret Garden in the City ~ Shaughnessy Restaurant
Located in the beautiful Van Dusen Gardens, Shaughnessy Restaurant is one of my favorite venues in Vancouver.  A not-so-hidden gem of the city, Shaughnessy boasts great food, personable service and a warm ambiance.
Although an obvious choice for summer weddings, Shaughnessy tops my list of venues for a fall wedding too. With the large foyer, covered patio and indoor restaurant this venue has all the space you need to host your ceremony, cocktail reception and dinner in every season.
Most couples choose to use the beautiful, heated and covered patio for both their ceremony and cocktail reception; however, for more intimate weddings, I love utilizing the foyer as well. At the entrance to the venue the foyer can seat around 80 people for a cozy ceremony, guests can then move to the patio for their cocktail reception. The restaurant, which can seat up to 165 people, is the perfect space for dinner and dancing. The chairs are an added bonus included with your rental!
So what does it cost? With a very reasonable $12,000 minimum spend on Saturdays during the summer — $10,000 for weekdays, Fridays and Sundays — Shaughnessy Restaurant offers great value for the money even with the additional $1,650 ceremony rental fee for use of the patio. The venue needs very little décor as it already has white drapes, large windows leading onto the garden and an abundance of pretty artwork. A few candles and centerpieces are all that is needed to make this venue perfection!
Additional charges include – a $64.47 SOCAN fee, $250 set up and cleaning fee, tablecloth and linen charge of $2.50 per person and a $250 administration fee.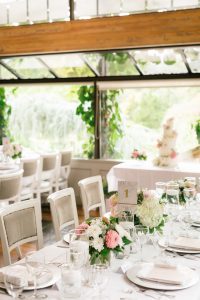 Optional charges include – $1.95 per person cake plating fee.  I love encouraging my clients to offer the restaurant's house-made seasonal sorbet (included in the dinner menu) served alongside the wedding cake.  There's an optional $5 per person rental for ceremony chairs and a $150 charge for use of the in-house microphone and speaker.
With its understated elegance and excellent food and service, Shaughnessy Restaurant is a great choice for any couple looking to host a relaxed, intimate wedding that maximizes the wedding budget. "
Review by DreamGroup Planner Olivia Woolwich
https://dreamgroup.ca/olivia-woolwich-coordinator/