With the growing popularity of breweries, there's no surprise that they would start to become a popular and fun venue option for wedding celebrations!  DreamGroup planner Olivia Woolwich had the pleasure of supporting Kelsey & Dave with their Big Rock Big Love Wedding.  Creative photos as captured by the talented Alaina Michelle Photography.
Getting Ready…
First Look Photos…
We always suggest that a couple incorporate a First Look experience into their wedding plan.  We often get resistance from the traditionists at first, but after explaining why it's a great idea we usually get our way!  The private time between the bride and groom without an audience serves many purposes.  Often a couple does not get to spend as much together on the wedding day as they should.  This is a perfect way to connect and get excited together for the journey to come!  It's also a great way to reduce the nerves and butterflies that staying apart can create.
Champagne Celebration
Pop! Fizz! Clink!  How much fun is this champagne popping celebration?  We think every couple should plan to incorporate a fun photo opp like this into the wedding photos! Get creative! Get silly! Have fun with it!  There won't be many opportunities where you look as good, feel as beautiful, and have a professional photographer on hand to capture your energy and personalities!  Let yourselves shine.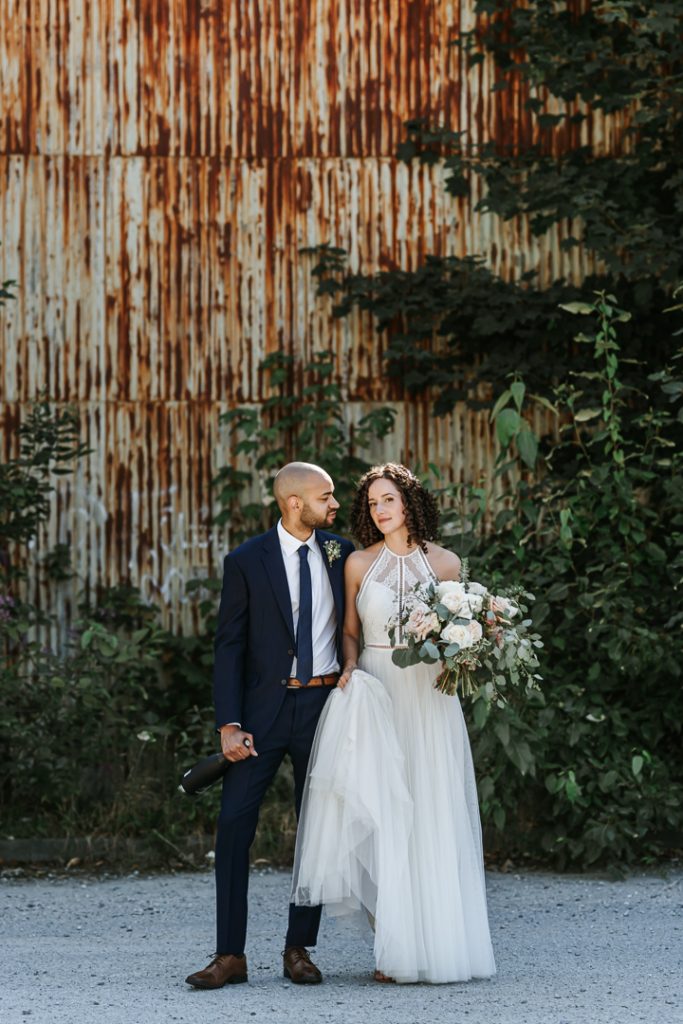 Photo Opportunities
The power of a creative photographer should never be overlooked as they will help you capture a photo experience that represents your style and personalities.  After all is said and done a couple has their memories and the photos to look back on… Make them AWESOME!
Guest Arrival… Welcome to the most fun wedding celebration you've ever experienced!
Ceremony Vibes… You can feel the Big Love with one of the most perfect Kisses with a dip to seal the deal. 
Full a detailed list of Vancouver's Wedding Venues click here.
Comfort Food for Everyone
Sure, plated and buffet dinners are lovely, but breweries offer the terrific opportunity to incorporate fun and comforting foods into the night's line up!  Sometimes relaxed and yummy is just what's called for!
Brewery Vibes… Big Rock Big Love Wedding
Full on Snackdown!  
Special thanks to the vendors who helped make it happen!